Equipment Modifications : The baggage

In order to make the trip less painful and to optimize the rest time we elected to go heavy on equipment due to two facts. Rolling friction is next to negligable for the difference between 60 kg and 65 kg and there was two of us who would attemp the trip that could distribute the weight evenly in the bags. It also came down to a security factor: i felt better taking a
tent
big enough to stretch out in and have enough room to put the bikes in at night while we slept.
The total weight of the four bags on my bike came to around 36 kg and 27 for Emmanuelle whereas the weight of the tent was only 3.9 kg. We were lucky to be able to start out from scratch with our equipment and it allowed us to choose the lightest and most compact for our needs. We took everything that we could and tried to diminue the weight some way or another by sawing or cutting or even replacing parts. The first thing to go is the extra tent pegs then the handle for evything that we could. then the mounting hardware for the hammoks and the metal buckles for the bags. Each and everything that could have been changed was changed for plastic or titanium. We had lost about 2 kg by applying this rule but we didnt loose in comfort.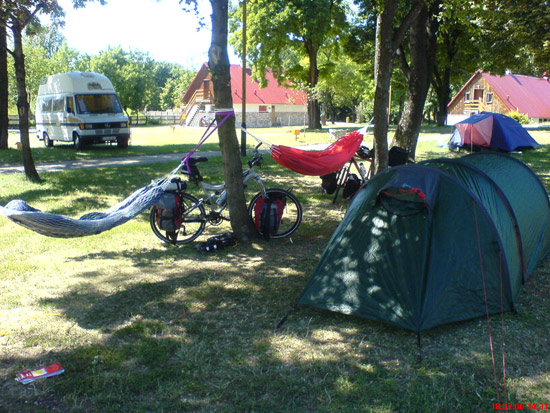 Okay I admit that we went a little overboard but the result was the same and if I had the chance i wouldnt change a thing. We had used everything that we brought except for a black cotton turtle neck shirt that was so wrinkled that I couldnt iron it with a prybar. Other than that we packed everything in the bags with room to spare.
The front bags were reserved for clothing and grooming stuff or anything that had a high volume without too much weight. I found that too much weight on the front forks threw me off balance because it was hard to equalize correctly. The rear bags carried most of the weight.
My right rear bag carried the 4 man tent, sleeping bag, pillow, ground mat and an extra pair of shoes. The left rear carried the extra parts for the bike, towel, solar panel, palm and keyboard, cel phone, alarms for the bikes, flashlight, bike pump, suntan cream, and all the dried food supplies such as coffee. I also carried the 4 litre water bag on the top of the rear rack.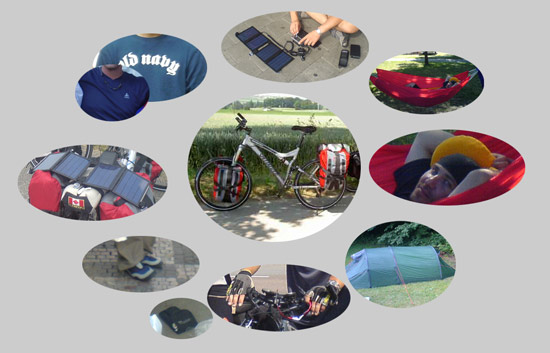 Emmanuelle carried practically nothing in the front bags except maps and food. Her rear bags carried the camp stove, cooking pots and pans, the medical case, her sleeping bag and pillows, the ground mat and her clothing. She also carried the tent pegs and the patch kit for the tent in case it got damaged.